So I keep thinking about this "retirement thingie". Still not sure exactly what it means for me except one thing for sure - I'll be watching the diamonds on the lakes and rivers in the years ahead - and boy do I know where THAT inspiration comes from! I've always had such a soft spot for vintage crystal jewelry. The 50s and the 60s have a terrific glimmer appeal. Even last night while watching the clips from the older White House Correspondents' Association dinner events - up comes Laura Bush wearing a fabulous crystal necklace! Did you catch that?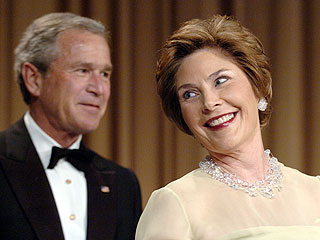 There's lots of great history connected with these amazing beads too. Be sure to check out the earlier piece I did -
Aurora Borealis
But ...getting back to the retirement process that does require some liquidation on my part. I'm reducing items and adding more last minute inventory to the
Etsy store
every day. Be sure to visit and remember to use coupon code
BLOGFRIEND
at checkout to save an additional 15%.